If everyone on the planet lived like the Swiss we would need 2.8 Earths. We Swiss have our Earth Overshoot Day this year on 8th May 2020.
As a provider of managed IT services, nine consumes considerable amounts of electricity for the operation of servers in the data centers. We have been aware of the problems associated with this for a long time and therefore "Green IT" has been part of our value proposition for many years.
nine Awarded as Green Web Hoster
The Green Web Foundation has been listing Nine Internet Solutions AG as green hosting for several weeks.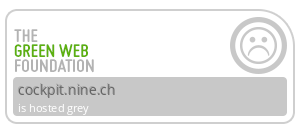 Green hosters obtain their electricity from renewable energies or they compensate for the CO2e (CO2 equivalents) created by electrical power generation with climate protection projects.
Sustainable operation of all IT applications
All of our customers' websites, Internet applications and e-commerce shops are thus shown as "green hosted" by the Green Web Foundation. Because the Green Web Foundation makes their data accessible to third parties, other eco-rating services use them, for example https://ecograder.com/.
Climate protection during operation of our data centers
We operate servers in three data centers in Switzerland: colozueri.ch in Zurich, e-shelter in Ruemlang (ZH) and the part of the Google Cloud hosted by green.ch in Lupfig (AG). All data centers have PUE (Power Usage Effectiveness) of less than 1.5 with Google / green.ch at 1.2. Around 80% of the servers we operate for customers are hosted in the colozueri.ch data center and operated directly with renewable energy. In 2019, we also offset 220 t CO2e for electricity consumption through climate protection projects at myclimate.ch.


Never miss an update!