We updated some components and also enabled new features for nine Managed GKE. Please find the details below.
New Features
Application Monitoring
We are happy to introduce our newest feature of nine managed GKE, "Application Monitoring"!
This feature will let you monitor your application with the help of Prometheus and visualise the metrics with Grafana. Additionally, an Alertmanager instance is also deployed, allowing you to get notifications on Prometheus alerts through Email, Slack, etc.
For more information and how to order, please visit our support documentation about Application Monitoring here.
We also created a small video guide series on how to use Application Monitoring starring Sebastian Nickel:
Managed GKE Billing Dashboard
We have replaced our old Billing Dashboard with a new one that features more accurate Google Cloud and nine Managed GKE costs.
The Google costs are exactly the same as on the Google Cloud invoice.
The Google costs can be broken down by Service.
It automatically calculates the nine Managed GKE fee.
The new Dashboard is accessible in your Grafana instance under Managed GKE Billing.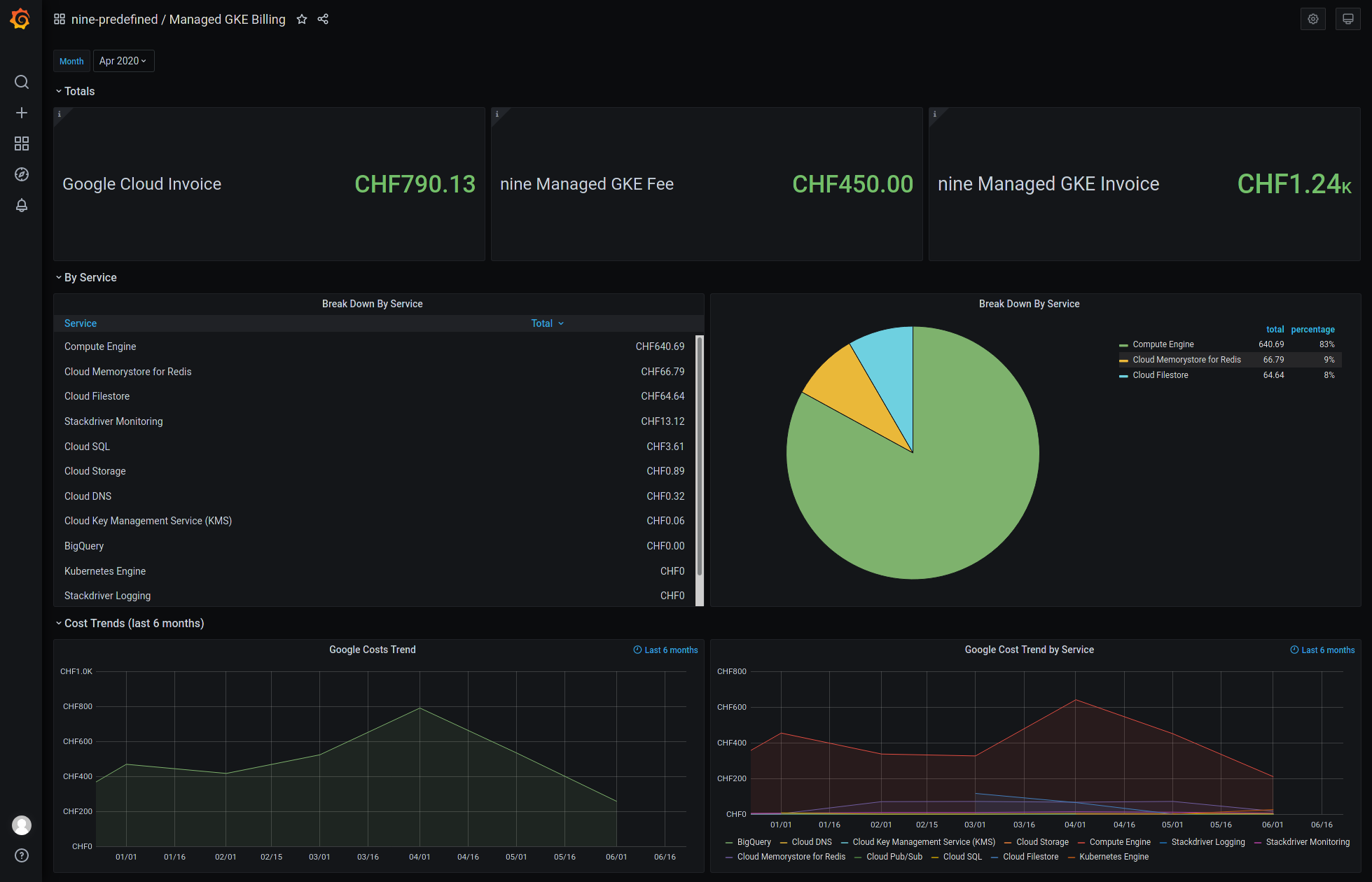 Component updates
Grafana 7
Grafana has been updated to the latest version. More information on what is new with Grafana 7 can be found here.
Prometheus 2.19
Prometheus is now running on the 2.19 version and should reduce its memory footprint. More information can be found here.
Kubernetes 1.16 ready
Additionally to all other upgrades, nine managed GKE is now ready for version 1.16. We are not migrating to this version yet since Google hasn't promoted it to the "stable" channel. Nevertheless, we like to be prepared for the future! If you wanna know more about releases, versions and the future of nine managed GKE, check out the "What is next?" section.
What is next
Switching to the stable release channel
Currently, we manage the Kubernetes version of nine managed GKE by hand and try to follow the stable channel of GKE.
In the near future, we will switch to the official stable channel and with that, nine managed GKE will qualify for Google's GKE SLA. You can read all about the SLA here.
We will also inform you again prior to the switch about any actions or disturbances this can cause.